Featured report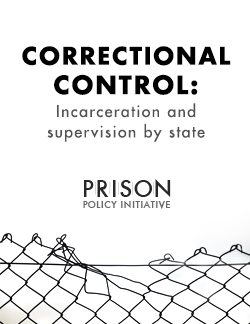 When it comes to ranking U.S. states on the harshness of their criminal justice systems, incarceration rates only tell half of the story. 4.5 million people nationwide are on probation and parole, and several of the seemingly "less punitive" states put vast numbers of their residents under these other, deeply flawed forms of supervision. Our report aggregates data on all forms of correctional control in one nationwide chart and 100 state-specific pie charts. We find tremendous variation between states, largely due to state differences in the leading form of correctional control: probation.
Unpacking mass incarceration
Learn about the national prison crisis and how we can begin to turn the tide on mass incarceration. Then, drill down to your state.
If our work is new to you, you might want to check out our 2017-2018 annual report.