Featured report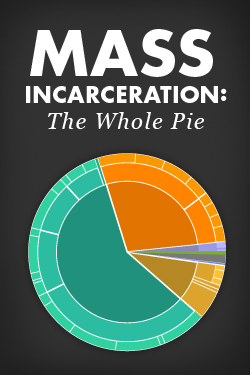 With 2.3 million people locked up in more than 6,000 correctional facilities operated by thousands of agencies, getting the big picture is anything but easy. In our new report and comprehensive graphic, Mass Incarceration: The Whole Pie 2018, we break down how many people are locked up in the U.S., where, and why. We are optimistic that this "whole pie" approach gives the public and policymakers the foundation to now consider the types of changes that would end the country's reign as the number one incarcerator in the world.
Unpacking mass incarceration
Learn about the national prison crisis and how we can begin to turn the tide on mass incarceration. Then, drill down to your state.
If our work is new to you, you might want to check out our 2016-2017 annual report.