Where People in Prison Come From: The geography of mass incarceration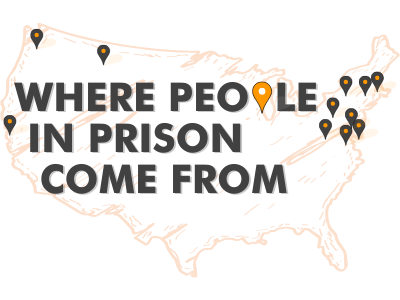 What communities do people who are incarcerated come from? It's a simple question, with huge implications, that until recently was impossible to answer. However, unique data sets finally allow us to answer that question.
We partnered with organizations in each of these states to collect this data, and we're making it available to advocates, researchers, organizers, journalists, and others. Our hope is that they'll use it to better understand how mass incarceration harms communities and correlates with other measures of community well-being.
You can find our national overview report here. And below you'll find our state-specific reports that provide analysis of the geography of mass incarceration in each state and the datasets behind that analysis.
Featured news coverage
Most incarcerated New Yorkers now come from upstate, not NYC. What's behind the shift?, by Eduardo Cuevas and Kayla Canne, Rochester Democrat & Chronicle, January 26, 2023
Native Americans, certain urban neighborhoods make up higher percentage of state prison, by Darrell Ehrlick, Daily Montanan, November 1, 2022
Report shows where prison gerrymandering in CT hurt the most, by Jaden Edison, The Connecticut Mirror, October 7, 2022
Where are CT's incarcerated from? New data shows prison and jail population by ZIP code, by Alex Putterman, CT Insider, October 7, 2022
Not just a Philly problem. Every community in Pa. has someone in state prison, new data show, by John L. Micek, Pennsylvania Capital-Star, October 4, 2022
'It's a new day for the formerly incarcerated': Why Not Prosper opens a center in Harrisburg, by Lynette Hazelton, The Philadelphia Inquirer, October 4, 2022
Most people in Delaware prisons come from poorer, minority-heavy cities, new report shows, by Hannah Edelman, Delaware News Journal, September 19, 2022
Phone calls, commissary accounts, lost time: Miles from prison, women face high costs of incarceration, by Candice Norwood, The 19th, September 12, 2022
These are the counties California's prison inmates come from. They're not always the places with the most crime, by Joshua Sharpe and Susie Neilson, San Francisco Chronicle, August 31, 2022
'A perfect storm of bad': Report finds incarceration rates highest among rural Californians, by Nigel Duara, CalMatters, August 31, 2022
This Roanoke Neighborhood Has One of the Highest Rates of Imprisoned Residents in Virginia, New Data Show, by Henri Gendreau, Roanoke Rambler, August 30, 2022
For first time, researchers can tell where in Nevada has the highest imprisonment rate, by Michelle Rindels, The Nevada Independent, August 9, 2022
Which Communities Do People In WA Prisons Come From? New Report Gives Answers , by Wilson Criscione, Investigate West, August 3, 2022
Report: Some of the least populated areas in Virginia have the highest incarceration rates, by Whittney Evans, Virginia Public Radio, July 14, 2022
Just a handful of Denver neighborhoods are home to a disproportionate number of imprisoned people, by Allison Sherry and Veronica Penney, Colorado Public Radio, July 12, 2022
Most Colorado prisoners come from Front Range, but some rural counties send people to prison at higher rates, by Shelly Bradbury, Denver Post, July 7, 2022
Commentary: Report affirms damage done by high incarceration rates, by Alice Green, Albany Times Union, June 26, 2022
Cities, rural counties have highest incarceration rates in N.J., study finds, by Dana Difilippo, New Jersey Monitor, June 16, 2022
The Datasets We're Looking at This Week, by Jeremy Singer-Vine, FiveThirtyEight, June 15, 2022