Santa Clara County, CA sheriff scraps plan to ban letters from home
Successful community organizing led Sheriff John Hirokawa to cancel plans to limit correspondence to postcard only.
by Leah Sakala, August 9, 2013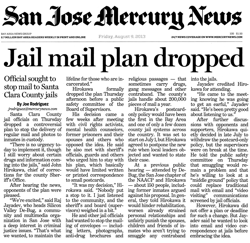 Great news for families in Santa Clara County, California: Sheriff John Hirokawa has scrapped a destructive plan to ban families from writing letters to loved ones in jail. As my report, "Return to Sender: Postcard-only policies in jail," found, jail letter bans jeopardize the critical family ties that help incarcerated people succeed when they return home.
Santa Clara residents were rightly outraged when they discovered that the Sheriff was planning on banning letters from the jail. With the leadership of local media and community organizing group Silicon Valley De-Bug, they held a powerful public forum to share their concerns with the Sheriff's Department. And, to the sheriff's credit, he called off the ban.
Meanwhile, Santa Barbara County residents in Southern California are still fighting to overturn the letter ban in the local jail. Santa Barbara Sheriff Bill Brown would be wise to follow Santa Clara County's example and end the letter ban that undermines public safety and drives families apart.